Assistants
Piano accompaniment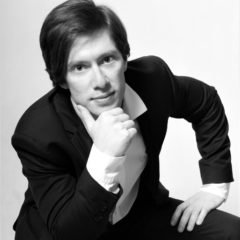 Stanislav Gallin
Piano accompaniment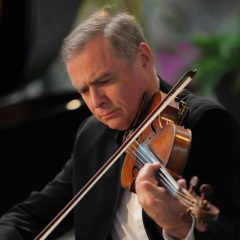 Vladimir Bukac
Viola, Chamber music (CRBruxelles, HfM Dresden)
Vladimír Bukač is one of the foremost viola players in the Czech Republic. He was born in 1964 and started playing violin at a very early age. He continued his studies with Nora Grumlikova at the Conservatory and the Academy of Performing Arts in Prague and then with Wolfgang Marschner at the University of Music in Freiburg, Germany. Already during his studies Bukac gained attention by winning prizes in several domestic and international competitions.
Between 1990 – 1993 Vladimir was engaged in Japan as soloist and chamber music player performing in all prestigious venues of Japan, as well as touring Australia and New Zealand. After returning to Europe Vladimír Bukač was invited to join the renowned Talich string quartet , which has been considered for many years to be one of the world´s finest string quartets. Over the past few decades, the Talich string quartet has been representing Czech musical art through the whole of Europe, Japan, North & South Americas, and South Korea, making records and giving master classes.
Apart from Vladimir's string quartet playing, he performs regularly as soloist and chamber music player at major music festivals in Europe (Helsinki, Sardegna, Prades…) and also in Israel, USA and Japan.
He has made several acclaimed recordings on viola for the Czech Radio and BBC. Some of his CDs were voted one of Classic CD magazine's "Choices of the Month" and were also praised with similar enthusiasm from The Strad Magazine and the Gramophone.
Since 2002, Vladimir Bukač is also a much sought-after professor of viola at the Music University in Dresden (Germany) and is regularly guest teaching at the Royal Northern College of Music in Manchester and giving master classes in Europe and the US. Apart from these activities, Vladimir Bukac has been repeatedly invited to judge international competitions (L.Tertis, ARD Munich etc…)
He plays a rare Italian instrument built by maestros Santini Lavazza (1725) and G.P. Guadagnini, Milan (1775).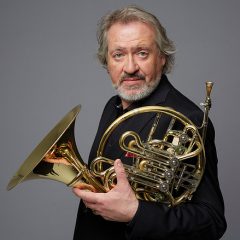 André Cazalet
French horn (CNSM Paris)
André Cazalet begins his studies of music at an early age and wins two first prizes at the Conservatoire National Superieur de Musique de Paris. After having been a soloist in Pierre Boulez' l'Ensemble InterContemporain, he has been the first principal horn in l'Orchestre de Paris since 1980. At the same time he is pursuing a soloist career that leads him to perform with conductors such as Christoph Eschenbach, Paavo Järvi, Semyon Bychkov, Wolfgang Sawallisch, Peter Eotvos,John Nelson, Michel Plasson, Antonio Papano, Walter Weller etc.
Being a sought-after artist in chamber music he has performed in particular with musicians such as Daniel Baremboïm, le Quatuor Talich, Pascal Rogé, Gérard Caussé, Maurice Bourgue, Katia et Marielle Labèque, Jean Pierre Rampal, Emmanuel Pahud, Schlomo Mintz, Christoph Eschenbach, Pierre Laurent Aimard, Christian Tetziaff, Boris Berezovsky, Julian Rachlin.
His repertoire spreads from the 18th century through to today and he also does research work with composers of the upcoming generation. He is the dedicatee and creator of numerous works for his instrument.
André Cazalet has been teaching at the Conservatoire National Supérieur de Musique de Paris since 1985 and has also been invited to teach at well-known institutions such as: the Tchaikovsky conservatory in Moscou and Rimsky Korsakov conservatory in St Petersburg, universities of Vienna and Tokyo, Musikhochschule in Hamburg, Freiburg, Munich etc.
His discography comprises amongst others Haydn's and Mozarts concerti and his recording of the trios for piano, violin and horn by Brahms and Ligeti has received the Grand Prix du Disque. Nominated at the Victoires de la Musique 2011, André Cazalet is Chevalier n the Ordre des Arts et des Lettres.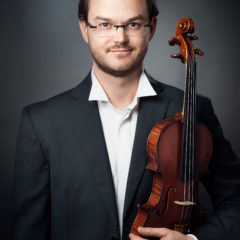 Jan Fišer
Violin (Conservatory Prague)
Jan Fišer is a Czech violinist who belongs among versatile artists. Besides his career as a Concertmaster of the PKF – Prague Philharmonia Mr. Fišer is sought-after as a chamber musician (violin and viola) as well as a soloist. He has collaborated with many orchestras of the Czech Republic: PKF – Prague Philharmonia, Janáček Philharmonic Ostrava, Philharmonic Orchestra B. Martinů Zlín, Czech Chamber Philharmonic Orchestra Pardubice, Carlsbad Symphony Orchestra and others. As a soloist he also appeared at the Murten Classic Festival (Switzerland), Pau Casals International Festival (Spain) and Brevard Music Festival (USA).
He is also active in chamber music. The Dvořák Trio ( Ivo Kahánek – piano, Jan Fišer – violin, Tomáš Jamník – cello) belongs among the leading young groups in the Czech Republic. The Dvořák Trio was given "Award for 2007" by Czech Society for Chamber Music. The group performed on an Asian Tour (Bangkok, Manila, Singapore, Hong Kong and Shanghai) in 2008. The debut CD with works of Dvořák and Smetana was released by Supraphon in October 2013 and received many great reviews.
Mr. Fišer has won many awards. He won the "Grand Prize" in the Kocian International Violin Competition in 1996. In the same year he got the "Laureate Title" in the Concertino Praga International Broadcast Competition – duo category. In 1997 he won, also in the duo category, the Tribune of Young Artists UNESCO. Next year he won as the youngest participant Beethoven International Competition in Hradec nad Moravicí and was awarded for the best interpretation of the 3rd Sonata by Bohuslav Martinů. Mr. Fišer was awarded by "Davidoff Prix" as a one of the most talented young musicians of the Czech Republic.
Beside his home orchestra, the Prague Philharmonia, Mr. Fišer has served as a guest concertmaster with the BBC Symphony Orchestra, Czech Philharmonic Orchestra, Bayerische Staatsphilharmonie – Bamberger Symphoniker, Deutsche Radio Philharmonie Saarbrücken – Kaiserslautern and Orquesta Clásica Santa Cecilia Madrid.
Jan Fišer gradually starts to take up a conductor's baton as well.
Jan Fišer studied with H. Metelková and later with prof. Jaroslav Foltýn at the Prague Conservatory. Most recently, he finished studies with the Concertmaster of the Pittsburgh Symphony Orchestra, Andrés J. Cárdenes at the Carnegie Mellon University – School of Music. M. Fišer attended the Meadowmount School of Music where he studied with Stephen B. Shipps. He also participated in masterclasses led by Pinchas Zukerman, Gil Shaham and Joseph Silverstein.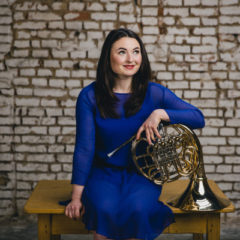 Kateřina Javůrková
French horn
Kateřina Javůrková began playing horn at the age of nine with Tomáš Kreibich and continued at the Prague Conservatory with prof. Bedřich Tylšar. In 2016 she successfully graduated from the Academy of Performing Arts in Prague (in the class of Zdeněk Divoký and Radek Baborák). During her studies she has passed an intership on the Conservatoire National Supérieur de Musique et Danse Paris in the class of prof. André Cazalet.
She is a winner of a number of international competitions, among them the "Federico II di Svevia"  competition in Italy (2011), International Horn Competition of the festival Moravian Autumn (2011) and the International Brass Competition in Brno (2013). Her latest and most significant success is the 1st prize and title of laureate on the prestigious Prague Spring International Competition 2013 and International ARD Competition in 2016. In 2016 she was admitted into the Czech Philharmonic and is a founding member of the Belfiato Quintet ensemble, which was awarded a 3rd prize on the 6th International Wind Quintet Competition in Marseille, France (2011). As a soloist she has appeared with the Czech Philharmonic Orchestra, PKF – Prague Philharmonia, Münchener Kammerorchester, Symphonieorchester des Bayerischen Rundfunks, NOSPR Katowice etc.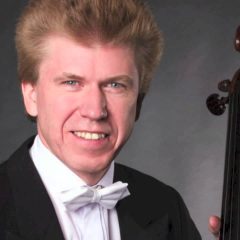 Michal Kaňka
Violoncello (AMU Prague)
Violoncellist Michal Kaňka plays his instrument since he had been seven years old, his teacher was Mr. Mirko Škampa. Then he studied at the Prague Conservatory as a student of Mr. Moučka and he got a degree at the Academy of Performing Arts as under Prof. Josef Chuchro. He took a part at the Piatigorsky seminar in Los Angeles.
Mr. Kaňka competed in more than thirty national and international violoncello and chamber music competitions. As a soloist he won the Tchaikovsky competition in Moscow (1982) and got a first prize at the Prague Spring International Music Competition. He is a winner of ARD Competition in München (1986).
He performs regularly with the leading czech orchestras – Czech Philharmonic, Prague Symphony Orchestra, Brno Philharmonic and he is a permanent soloist of Prague Radio Symphony Orchestra. He worked also with many foreign orchestras and performed all around the world, for example in Japan, USA and in South America. During his career he had recorded many solo CDs.
Mr. Kaňka is not only a solo player. He wa a member of many chamber ensembles and for more than 30 years he is a member of famous czech Pažák Quartet. Since 2011 he is a pedagogue of Academy of Performing Arts and he also teaches the students of Prague Conservatory. In 2014 he was chosen to be a chairman of the permanent committee of the international competition Prague spring.
He plays an outstanding contemporary instrument made by French violin-maker Christian Bayon.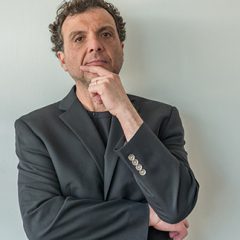 Miguel Kertsman
Music management, contemporary music workshops (Danube University Krems)
Following schooling in Brazil and the United States, Miguel Kertsman attended Berklee College of Music in Boston graduating in record time with honors in 1986 in Music, Production and Engineering. At Berklee he was a scholarship recipient, receiving the Oscar Peterson Jazz Masters Incentive Award. Additional studies included orchestral conducting with Attilio Poto at the Boston Conservatory, and subsequently composition studies with Stanley Wolfe at the Juilliard School in New York. Kertsman captivates audiences internationally with prolific compositions and critically acclaimed productions spanning the boundaries of conventional music genres. Seeing music as a universal language, his versatile career includes composing Symphonic, Chamber, and Vocal Music for the Concert Stage, Theater, Jazz, and other platforms in Pop, Electronic, and music for Film and Media. His Concert Stage works have been performed or recorded at premiere venues in New York, London, Rio de Janeiro, Vienna, Sao Paulo, Linz, Chicago, etc. by artists such as Angelika Kirchschlager, John Williams, Dennis Russell Davies, The Ahn Trio, Bruckner Orchestra Linz, St. Paul's Chamber Orchestra, and others. His music has been released on CD globally by labels such as Sony Classical and RCA Victor Group, and published by Universal Edition among others.
Kertsman has also produced and engineered numerous international recordings across the music spectrum. Projects have included: Sony Classical's Bruno Walter Edition, Bernstein Royal Edition, Jean Pierre-Rampal, John Williams, Angelika Kirschlager, Wolfgang Schulz, Dennis Russell Davies, Jazz guitarist Badi Assad, star DJ's David Morales, Frankie Knuckles, and others. Kertsman has held executive and technical positions with record companies and studios, and has served as consultant on A&R (Artist and Repertoire) audio engineering, music technology, and acoustics projects with clients such as Sony, Kirkegaard Acoustics (Royal Festival Hall, London; Carnegie Hall, NY; Bavarian State Opera, Munich), Chesky Records, RCA Victor Group, and others. He holds seminars at universities such as Northwestern University, University of Music and Performing Arts Vienna, IES Abroad, and others. He has designed most of the new Masters of Arts Program in "Music for Film and Media" at the Danube University in Krems where he also directs the program. As consultant, Miguel Kertsman has collaborated with institutions such as Berklee College of Music in Boston, Yale University School of Music, The Academy at Carnegie Hall, among others. Awards have included: Cannes Classical Award, Golden Note Award, Grammy Award Nomination, and others.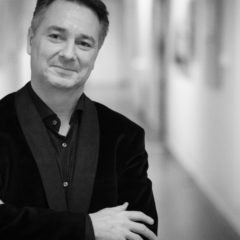 Jérôme Guichard
Oboe (CNSM Lyon)
Jerome Guichard first picked up the oboe after hearing a performance of the Mozart Oboe Concerto, at the tender age of 9, in his hometown of Nancy. This led him to the Paris Conservatory, where he commenced his studies in 1985, first under the tutelage of Pierre Pierlot, and then of Maurice Bourgue.
In 1988 and 1989, the Conservatory unanimously awarded Jerome first prize in the fields of chamber music and oboe, and in those same years he reached the semifinals of the Geneva International Music Competition, and the Castello di Duino in Trieste. He also tied for second place with Francois Leleux at the International Double Reed Society's 1989 competition in Manchester, and was a finalist and special prize winner at the Prague Spring International Music Competition in 1991. A decorated laureate of the Yamaha Foundation in 1991, in that same year he won first prize at the Tokyo International Oboe Competition.
The following year Jerome was honoured to play with Jean-Pierre Rampal and his old teacher Pierre Pierlot, in a celebration of Rampal's 70th birthday, at the Theatre des Champs-Elysées. Over the next few years he appeared as soloist with the Radio France Philharmonic Orchestra (Salle Gaveau, 1993), the Simon Bolivar Symphony Orchestra (under the auspices of the Beracasa Foundation, Venezuela, 1994), the Minsk Symphony Orchestra (1993, 1995 and 1997) and the Quebec Symphony Orchestra (1997).
Jerome is also a regular guest of the Opera Bastille Orchestra, the National Orchestra of France, the WDR Symphony Orchestra Cologne and the Budapest Festival Orchestra. He has collaborated with the likes of the late Lorin Maazel, Kurt Masur, Semyon Bychkov, Kent Nagano, Thierry Boulez, Jeffrey Tate CBE, and Emmanuel Krivine, who appointed him Principal Oboe of the Lyon National Orchestra in 1997. The London Symphony Orchestra invited him to perform in their 2010/11 season, with Antonio Pappano, the late Sir Colin Davis, and Valery Gergiev.
As Principal Oboe of the Lyon National Orchestra, Jerome has performed most of the major works of the oboe repertoire, including the concertos of Bach, Vivaldi, Albinoni, Marcello, Martin& and Ibert. He is also strongly committed to the advancement of contemporary music, leading him to work with such composers as Lutoslawski (1993), Mefano (1990 and 1993), Ligeti (2000) and Berio (2001), as well as with the contemporary music ensembles 2e2m and TM+.
Jerome has participated in a number of music festivals, including the Montpellier and Radio France Festival, the Septembre Musical de l'Orne, the Orlando Festival (Netherlands) and at the Neubourg Chateau (Germany), and he has been a guest at many European institutions, such as the Hochschule fur Musik and Theater Munchen, the Royal Academy in London, the Royal Conservatoire of Scotland, Oslo Music Academy and most recently the 2014 Beijing International Oboe Festival.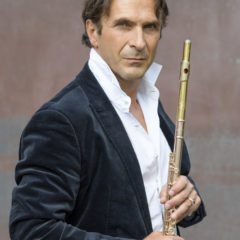 Stéphane Réty
Flute (HfM Dresden)
Stéphane Réty began his musical studies in his birthplace Lorient, France.
Further studies took him to the conservatory of Nantes (Guy Cottin's class) and finally to the Paris Conservatory (Conservatoire National Supérieur de Musique de Paris) in Michel Debost's class, winning a unanimous first prize in flute and chamber music(Cristian Larde'class) in 1989. First prize winner of the Vierzon international competition, prize winner of the Rampal competition, he has held the position of flute solo in various orchestras including the orchestre de Paris, Monte-Carlo Philharmonic, orchestra of the Zürich Tonhalle, Stuttgart Philharmonic. In 1991, he was appointed principal flutist of the Basel Radio Orchestra. Currently he is principal of the Basel Simphony Orchestra, and of the Zürcher Kammer Orchester in Switzerland.
As a soloist, he frequently appears throughout Europe, America and Asia with Musicians like Augustin Dumay, Katia and Marielle Labèque, Marie-Pierre Langlamet, Wolfgang Holzmair etc…. Amongst other premieres, he gave the first performance of Joachim Rodrigo's flute concerto in Belgium in 1985 and also the first performance of "Nocturnes2" for flute and string orchestra by Wim Hendericks in Brussels, conducted by Barth Van De Velde in 2001. In May 2005, he gave the world premiere of Lourié's (russian composer) duo for flute and piano.
He has made several recordings, including Johann Sebastian Bach's «Suite No 2 », under the conducting of Rudolf Barshai, the "Brandenburg Concertos " with the Seoul Chamber Ensemble for EMI, a CD devoted to Debussy for flute and harp with Nicolas Tulliez on the french label Skarbo.
His latest CD release, nominated for the Grammy Awards 2007, is devoted to J.S.Bach with flute concerto BWV 1056, Trio sonate from Musical Offering and Brandenburg 5 on Traverso, for Naxos.
Stéphane Réty has been invited throughout the world to give master classes (Europe,U.S., South Korea, Brazil…). In addition, he has been assistant conductor of the Junge Deutsche Philharmonie, and has composed film music, such as the score for the documentary "A star called Ayrton Senna" distributed by TF1 Video.
Stéphane Réty is Professor at the "Musikhochschule" in Dresden in Germany.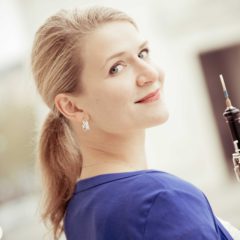 Barbara Stegemann
Oboe
Co-principal oboe and cor anglais at the Orchestre de Chambre de Lausanne, Switzerland.
Barbara Stegemann, born in Siegburg/Germany, studied the oboe at the Mozarteum in Salzburg with Günther Passin, at the Hochschule für Musik und Theater München with Francois Leleux and at the Haute école de la Musique Lausanne with Jean-Louis Capezzali, where she graduated with the prestigious 'master soloist'.
In the course of her studies she also attended master classes with renowned oboists such as Stefan Schilli, Maurice Bourgue, Jerôme Guichard, Hanjörg Schellenberger, Alexei Ogrintchouk, Jaques Tys, David Walter, Nick Deutsch, Bernhard Heinrichs and Philipp Mahrenholz.
She has won several prizes at competitions as the first prize at the 'Bundeswettbewerb Jugend Musiziert' in 2016 and the second prize at the LIONS Competition Germany.
From age 13 Barbara has been playing as principal oboe at several youth orchestras, such as the Bavarian Youth Orchestra or the Gustav Mahler Youth Orchestra. From 2010 she has been principal oboe at the Kammeroper München and from 2012 academy-student at the opera in Zurich. She's also regularly playing as principal oboe with orchestras such as the Gstaad Festival Orchestra, the Bern Symphony Orchestra, the Sinfonierorchester Basel, the NDR Radiofilharmonie etc. In 2014 she won the position as co-principal oboe and cor anglais at the Orchestre de Chambre de Lausanne, Switzerland.
Over the years she has been playing under conductors such as Christoph Eschenbach, Mariss Jansons, Philippe Jordan, Teodor Currentzis, Joshua Weilerstein and Fabio Luisi and has been a regular chamber music partner to Jean-Louis Capezzali, Radovan Vladkovic, Andrea Lieberknecht, Dag Jensen, Francois Leleux, Sergio Azzolini, Sharon Kam, Stefan Schweigert and others.
Since 2017 she is an assistant of Jean-Louis Capezzali at the French-Tcheque academy in Telč / Czech Republic such as occasionally at the Haut école de musique/HEMU in Lausanne.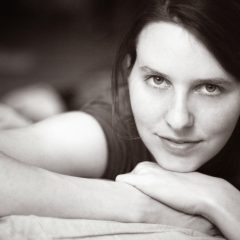 Silvie Ježková
Piano accompaniment
Silvie Ježková began playing the piano at age five, under the leadership of Jana Diatková. She graduated from the Conservatory in Prague (E. Boguniová) and the Academy of Performing Arts in Prague, the class of Doc. Boris Krajný and Prof. Ivan Klánský.
Silvie Ježková is consistently dedicated to chamber music performances in a variety of instrumental combinations. She has a long-term cooperation relationship with the violinist Roman Patočka, the laureate of the Prague Spring 2004 competition and winner of prizes from a number of international competitions. She is also a pianist-partner of Jan Ostrý, one of our most sought after flautists of the current generation. For many years, she has been cooperating as an accompanist with many summer master classes (the Czech-French Academy in Telč, Summer Academy Semmering Meetings with Music in Soběslav, Summer Flutes in Jičín and Olomouc).
As a chamber player, she performed at the Prague Spring Festival, in a number of Avro Klassieks in Dutch Concertgebouw, and at the festivals of Lange Nacht der Musik in Vienna, Les Journées Romantiques du Vaisseau Fantôme in Paris, and others. She performed on prominent domestic and foreign stages (France, Germany, the Netherlands, and Austria) and recorded for ÖRF, Radio 4 Netherlands, and Czech Radio. Since 2000, Silvie Ježková has worked at the Prague Conservatory.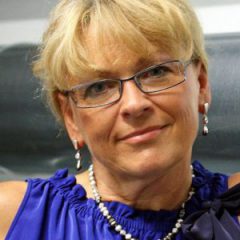 Iva Návratová
Piano accompaniment
Pianist Iva Návratová is appreciated by the audience and critics in the first place for her poetic and sensitive playing, which captures the attention.
Born in Ostrava, this Czech pianist began her musical studies at the age of five. After graduating of the State Conservatory in her home town, she proceeded to Prague, where she gained her Master of Arts degree at the Academy of Musical Arts under the direction of the great teachers and performers, Professors Jan Panenka and Ivan Moravec.
Even at the beginning of her career, she was already appearing as soloist with orchestras such as the Prague Symphony (FOK), Janacek Philharmony Ostrava, State Philharmony Brno and others.
Immediately after completing her studies, Mrs. Navratova was appointed as a teacher for Piano, Collaborative Piano and Chamber Music at the Janacek Akademy of Musical Arts in Brno, Czech. She quickly became a sought-after chamber music partner and performed regularly in concerts, radio and television with numerous soloists, singers and chamber ensembles. As a member of Society of Czech Composers and Concert Artists, she gave frequent premiers of new works.
In 1989 Iva has accepted the offer from the University of Music in Trossingen, Germany, where she teaches at the Piano Accompaniment Department. Since then she has continued to collaborate internationally with many well-known soloists and performs regularly in concerts, international symposiums, master-classes and competitions. With a vast repertoir, spanning a large range of styles, periods and chamber music formations, she has become one of today´s most indemand pianists. Her activities have included performances in Japan, South Korea, China, USA, Cuba, Turkey and in almost all European Countries.
Iva Navratova is also appreciated as a piano teacher. After moving to Trossingen, she has taught at Music Schools in Konstanz and Singen and during summer semester 2001 as a guest teacher at the University of Nothern Iowa, USA. Since 2002 she has been responsible for piano education at the Hohner Conservatory, Trossingen.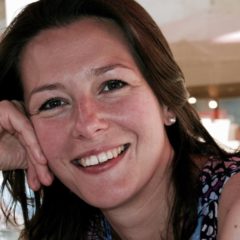 Miloslava Machová
Piano accompaniment
Pianist Miloslava Machová graduated at Prague conservatory as a student of Mrs. Eva Boguniová and after that she continued her studies at the Musical faculty of Academy of Performing Arts in Prague in class of Mr. František Malý.
Having finishing her studies, she focused on chamber music and piano accompanying, playing mostly with wind instrument players. She co-worked with a number of both Czech and European leading artists and she recorded also a plenty of records with them. In 2008, she was named as the official accompanist of the Prague Spring International Music Competition.
She currently works as a research assistant at the Musical faculty of Academy of Performing Arts in Prague and at the brass departement of Prague conservatory.
Since 2006, she regularly accompanies the students at the Summer courses of the French-Czech Music Academy in Telč.